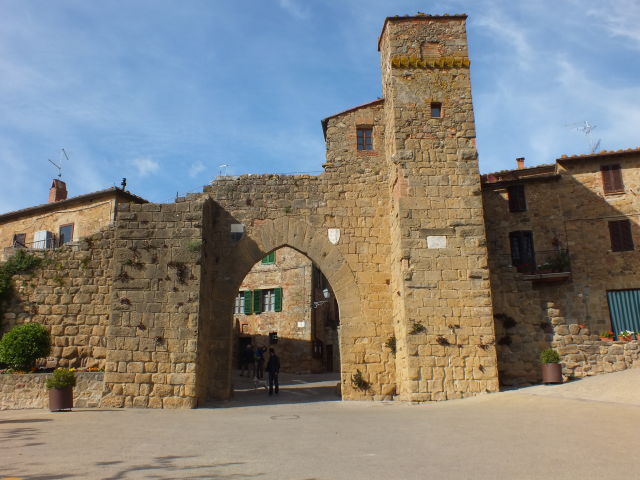 Monticchiello is a small medieval town that is halfway between Pienza and Montepulciano along a secondary road connecting the two towns. The village at 546 meters high is still partly surrounded by the ancient walls of the 13th century. The small hamlet of Monticchiello is immersed in the beautiful hilly landscape of the Val d'Orcia and here is a characteristic road with curves and cypress-lined, representing one of the most famous photographs of the Tuscan landscape typical of the Val d'Orcia.
The origin of Monticchiello dates back to the X century, in fact the name of the village appears for the first time in a document of that time. The country was controlled by the Republic of Siena for some hundreds of years, and at the end of the 14th century it was conquered by Florence, but a few years later it was sold back to Siena.
In the 16th century, Monticchiello was the scene of fierce struggles between Siena and its enemies. In 1502 it was conquered by Cesare Borgia, then in 1553 it was occupied by the troops of Charles V who destroyed the defensive works of the castle. Siena returned to its possession shortly afterwards and refined it, but in 1559 Monticchiello was definitively transferred to Florence.
Today, Monticchiello still has some of the ancient walls with towers and the 13th century trestle. You enter the village from the main door, consisting of ancient houses and narrow and twisted streets, there is an interesting church of the thirteenth century with Romanesque-Gothic façade dedicated to the saints Leonardo and Cristoforo. The church externally has a façade with an ogival portal and a beautiful rosette, while in the interior, both on the walls and in the presbytery, there are interesting frescoes of Sienese school of the fourteenth century, the most famous is MADONNA COL BAMBINO of Lorenzetti, today housed in the Diocesan Museum of the nearby Pienza.
We took this item from BORGHI DI TOSCANA.NET, to find out more visit us;)