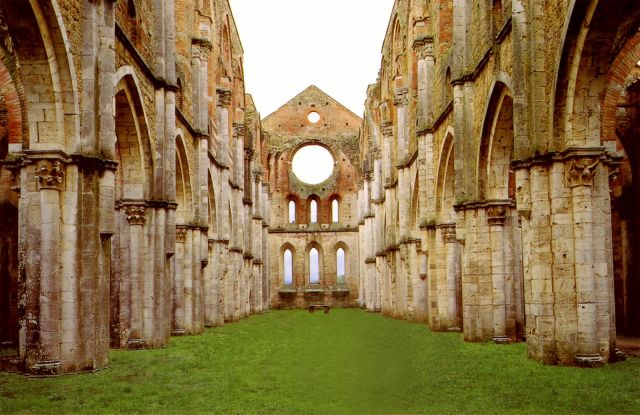 Discover two beautiful abbeys immersed in the Tuscan countryside and the hills of Brunello vineyards dominated by the village of Montalcino.
We will start the day with the visit to a magical place in the tuscan countryside, St. Galgano Abbey, an imposing gothic church that amazes the visitor both for its insulation and the sanctity emanating, and for the distinction of not having the roof. On the adjacent hill you'll reach with a short walk the Hermitage of Montesiepi, with its famous sword in the stone.
We will continue the tour with a visit to Murlo, small and charming town of Etruscan origine, to get to medieval village of Montalcino, where you can walk among artisanal shops and small cafes and you can admire monumental palaces and reach the fourteenth-century fortress through a scenic tour of walls, from which you can enjoy a wonderful view of the hills designed by vineyards and cultivated fields.
After a typcal tuscan lunch in a winery of the area of Brunello, we will discover St. Antimo Abbey, romanesque style building, whose magnificence is enhanced by the beauty of the surrounding countryside, where everyday functions are celebrated with Gregorian chants.
On the way back we will stop at an organic farm in the Brunello, where you'll be guided to the cellars to learn about the traditional wine making methods and you can taste a selection of Rosso and Brunello di Montalcino, wines among the most famous and appreciated in the world.
IF THIS TOUR IS INTERESTED, please email us at info@collosodo.it and we will advise you our TRAVEL EXPERT!