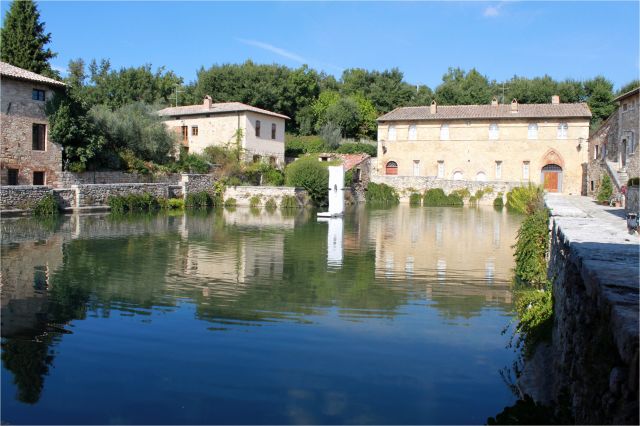 In the heart of the Terre di Siena there is a corner of paradise where the perfection of the sinuous and enchanted landscape is combined with an unparalleled cultural and artistic richness. Val d'Orcia is the incredible result of a close relationship between nature and man, in a perfect combination of bare land and rolling hills covered with vineyards and olive groves.
The richness of this land continues in its natural elements: thermal waters that since ancient times model the territory and are perfect for a regenerating holiday. Already the Etruscans knew the healing properties of the springs of Bagni Vignoni and subsequently the Romans exploited their beneficial properties. A large rectangular pool is the evocative setting that adorns the historic center of the village: here the thermal waters flow out and the main monuments overlook, including the portico of Santa Caterina and the Church of San Giovanni Battista. At night the vapors rising from Piazza della Sorgenti envelop the village in a very suggestive fog blanket.
You can not miss a visit to the nearby San Quirico d'Orcia, the village on the ancient Via Francigena preserves treasures to discover as the beautiful Collegiata of the twelfth century and the sixteenth century Horti Leonini.
Natural Baths of Bagni San Filippo
On the slopes of Mount Amiata we find a small spa, where sulfurous waters rich in carbonate descend into the valley and form limestone cascades in the shade of thick woods. We are talking about Bagni San Filippo, in the municipality of Castiglione d'Orcia, where there is a unique show in the world: the white whale, a cascade of thermal water that over the years has created very white and spectacular limestone deposits.
You can so relax in these spectacular open-air baths, or treat yourself to a regenerating and relaxing break at the Terme di San Filippo complex.
IF THIS TOUR IS INTERESTED, please email us at info@collosodo.it and we will advise you our TRAVEL EXPERT!